Every year the type of recreation called "Camping" is gaining more and more popularity, it is a kind of camp in the open air only with a more developed infrastructure, on its territory it is often possible to find parking for cars, bathrooms and showers, playgrounds and cafes.
Such popularity is not accidental, the camping has many advantages: firstly, it is economical, you do not have to pay too much for hotel accommodation and meals in the dining rooms, and secondly, it is a great opportunity to escape from the annoying city bustle of social networks. Meld with nature, and enjoy communication with family and friends.
Probably, now you have a lot of questions in your head: is there a camping in Primorye? And if so, where can we find it? The answer will not make you wait long!
Now I will tell you what places of Primorsky Krai are worth visiting, what to take with you and what to do on vacation.
Best camping spots in Primorye
Recreation center "27 Region" Livadia
The base is located in the heart of the closed bay "Anna". This is a protected area, so it is always a clean shore and warm sea. There is a separate area for camping here. It has everything for your unforgettable rest.
Sandy beach, where you can lounge in the sun, for those who want to be active, there are exciting excursions to the rookery of seals, you can also rent a boat for fishing, water skiing or scooter.
People who couldn't leave social networks at home, may not worry, cellular communication and good Internet is on the whole coast.
Troitskoye Recreation Center on Lake Hanka
If you want to spend a vacation on the lake shore, the base "Trinity" is waiting for you! This is a very cozy place, which is perfectly located on the shore of Lake Hanka. And this is, for a moment, the largest freshwater lake in Primorye. Tasty ear is guaranteed to you! The advantage of this base is that you can not only book a house available on the territory, but also arrange your own private camping.
Victoria Recreation Center
This base is just a dream for tourists who want to hide from other people's eyes and enjoy the wilderness. A distinctive feature of this base are horseback riding, along the coast and not only. You can also rent a boat and go to explore the nearby coves. This is an inexpressibly beautiful view.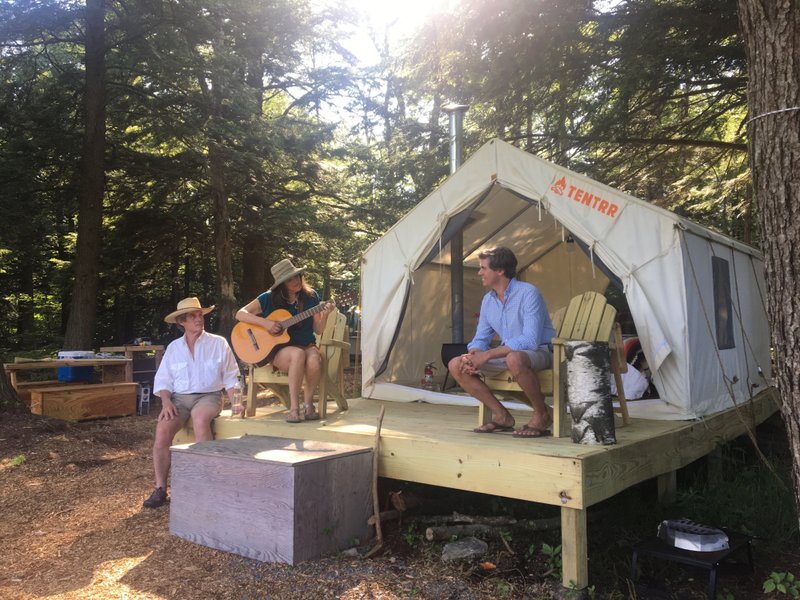 Recreation center "Veselkina Bay"
This base is a good choice for those who prefer camping at sea. Until recently, the bay was closed to the public because it was a reindeer herding farm. This helped to preserve the nature of these places in its original form. The cost of living at the campsite includes a guide who will guide you through the local attractions: Askold Island, and the Stones of Unckowski's Rock Seal Rock.
Askold Island
The island has a rather rich history, it was first described by Russian sailors in 1859. Here gold was mined and spotted reindeer were bred (in the 19th century it was the only place in Russia). There was also a military observation point on the island for a long time. His main task was to observe the Japanese, who could lay mines in the strait. Some of the guns and special equipment of those years have survived to this day. Now there is a functioning lighthouse on the island.
Stones of Unckowski's "Seal rookery"
These are the rocks, which are located in the strait "Askold", near the island of the same name. The interesting thing about this place is that it is very much loved by seals. It is the biggest and the sweetest seal rookery in Primorye.
What do you need to take with you on a trip?
If you've decided that seaside camping is right for you, don't forget to bring the right equipment with you:
Warm clothes (the weather in our favorite Far East is unpredictable)
Dishes for camping (a couple of bowls, unbreakable plates and mugs, just as you need to think about how to wash and wash dishes)
Headgear (so as not to get sunburned)
Sleeping bags or bed linen
Insect repellent spray (just in case)
Flashlight, and spare batteries
Matches
First aid kit (choose the content)
And most importantly, do not forget to take a positive attitude and close people, and then your vacation will be sure to pass on a hurrah.